SNPTC and Westinghouse Electric are to Establish a New Global Supply Chain Service Platform
2013-05-10
Resource: Office 
Author: Zuo Xinci 

993


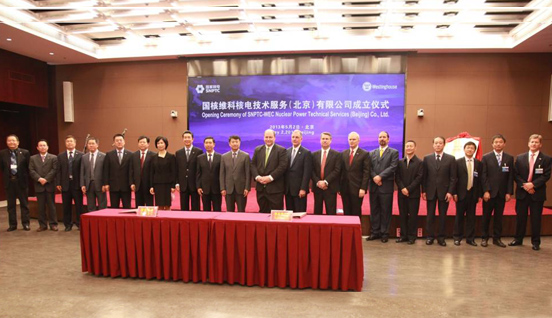 Recently, SNPTC-WEC Nuclear Power Technical Services (Beijing) Co,. LTD. was jointly established by SNPTC and Westinghouse Electric in Beijing. The joint venture will provide global customers with certification service for AP/CAP nuclear power equipment and materials suppliers, and procurement and supply chain services. It is a new bridge for China's nuclear power equipment manufacturers to enter international market and for foreign nuclear power equipment manufactures to enter Chinese market.
Chairman of SNPTC Wang Binghua said that the joint venture will always adhere to the value concept of achieving win-win with the original technology creator and partners. The joint venture combines the strength of Westinghouse Electric in the AP1000 technology resources, quality management and quality standards with the AP1000 equipment supply chain integration capability of SNPTC in China, and has become an all-win platform for global enterprises. Wang Binghua says that it is SNPTC's responsibility to promote the development of China's nuclear power equipment manufacturers and establish international brands.
President and CEO of Westinghouse Elecric Danny Roderick says that the joint venture will help integrate the quality and safety standards of the two parties, improve the safety and quality standards of nuclear power equipment in the whole world, and bring new market opportunities. It also marks further strategic cooperation between SNPTC and Westinghouse Electric for providing the next generation with safe, clean and reliable new energy.
Representatives from Harbin Electric Corporation, Dongfang Electric, China National Erzhong Group, Shanghai Electric Group, Yantai Taihai Manoir Nuclear Equipment Co., Ltd. attended the unveiling ceremony and singed related agreements.